A total of 798 cases of the coronavirus have been confirmed in the UK, with the country now entering the next stage in the government's phased plan to tackle the outbreak.
Some 32,771 people in the UK have been tested for the respiratory infection so far. Ten people who tested positive have died.
Find out how many people have confirmed cases in your area:
How many confirmed cases are in your area?
Enter a postcode, English council or Scottish NHS area to find out. Wales and Northern Ireland are not currently providing localised figures
Type in 3 or more characters for results.
If you can't see the look-up click here.

The following maps, charts and graphics will help you understand the situation in the UK and how the authorities are dealing with it.
1. The number of UK cases is growing
The new coronavirus, which causes the respiratory disease known as Covid-19, was first confirmed in the UK at the end of January.
While there were a number of people testing positive throughout February, figures in the UK began to increase significantly at the beginning of March.
Since then, cases have been reported across the UK, with 208 new cases announced on Friday.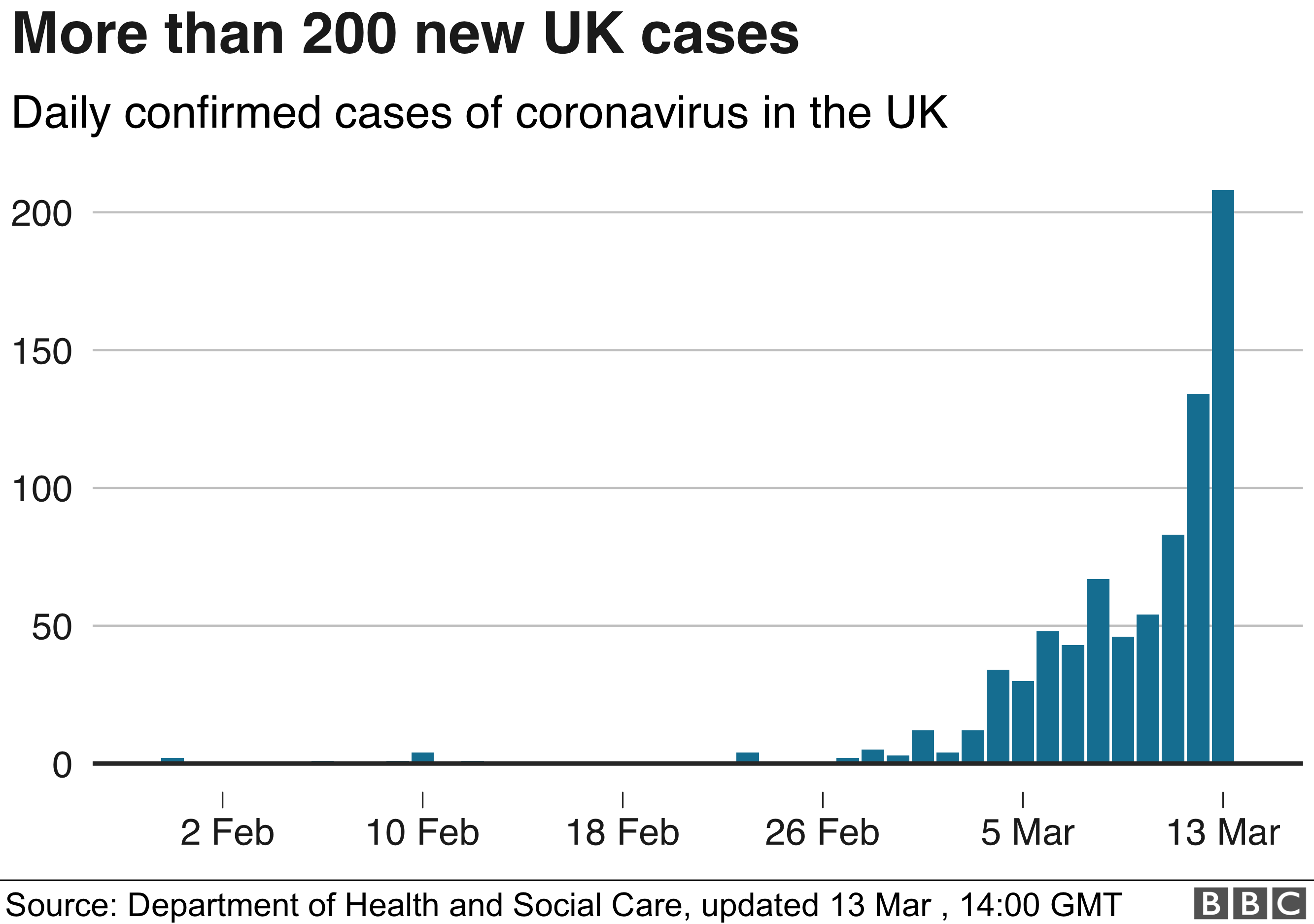 Most of the cases are in England, with over 640 cases, 85 are in Scotland, 38 in Wales and 29 in Northern Ireland. Oxfordshire is the local authority with the most cases in England.
Confirmed case numbers for the UK are lower than other European countries, such as Italy, for example, where there have been more than 15,100 cases and more than 1,000 deaths, according to 13 March figures from the World Health Organization.
However, the government's chief scientific adviser Sir Patrick Vallance said there were probably between 5,000 and 10,000 people infected in the UK at this time.
He also said that many people will no longer be tested if they are showing mild symptoms. Only those with the most serious symptoms will be given a test in hospital.
England's chief medical officer, Professor Chris Whitty, said the peak of the UK outbreak is most likely still 10 to 14 weeks away.
Globally, authorities have confirmed more than 132,500 cases of the coronavirus and almost 5,000 deaths.
The vast majority of cases - more than 80,900 - are in China, where the virus originated in December.


2. We are in the second phase of the government's response
The government has published its action plan for dealing with the virus, which involves three phases - contain; delay; mitigate - alongside ongoing research.
While the emphasis has been on the contain and research phases up until now, the country has now moved to the "delay" phase to stop the wider spread of the virus, Prime Minister Boris Johnson announced on Thursday.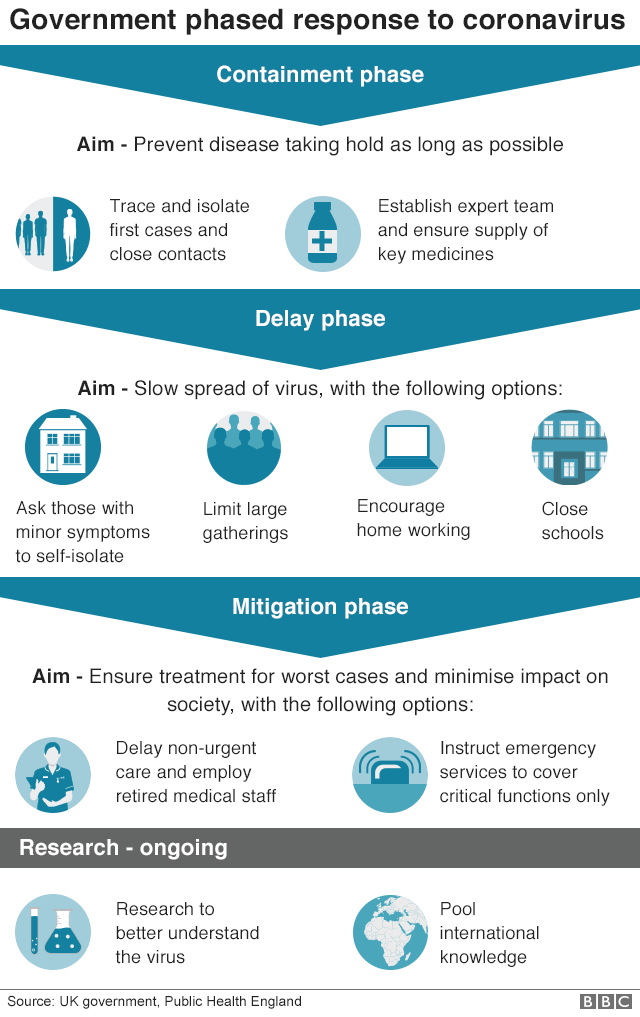 As part of the delay phase, people with even mild coronavirus symptoms - defined as a temperature above 37.8 C or a "new, continuous" cough - are being asked to self-isolate at home for seven days to protect others and help slow the spread of the disease.
Schools are also being advised to cancel trips abroad and people over 70 and those with pre-existing health conditions are being told not to go on cruises.
The delay phase could also mean further "social distancing" measures at a later date, but Mr Johnson ruled out closing schools at this stage.
If the virus becomes even more widespread, the government may then decide to enter the mitigation phase, when health services are asked to focus on critical care and retired NHS staff could be asked to return to work.

3. People who think they have coronavirus should self-isolate
If you have a "new, continuous" cough or high temperature and think you have coronavirus you are advised not to go to a GP surgery, pharmacy or hospital. Instead, you should self isolate for seven days.
If symptoms persist beyond seven days or if you get worse you should contact the NHS's dedicated 111 online coronavirus service if you are in England.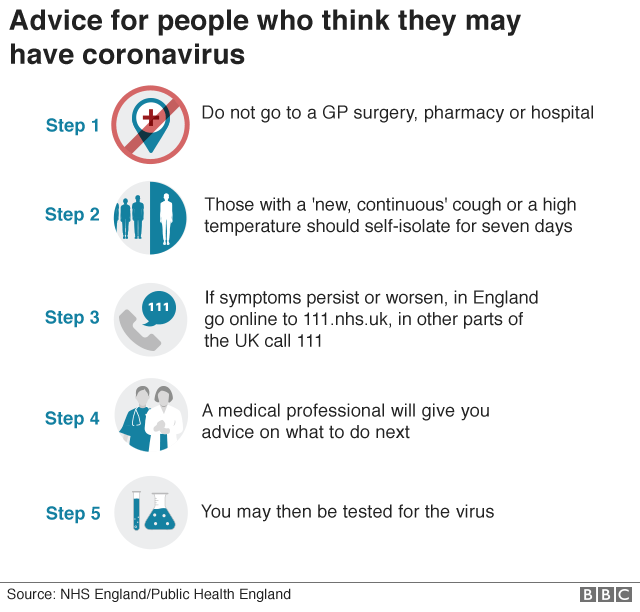 In Scotland, you should call your GP or NHS 24 on 111 out of hours. In Wales call 111 (if available in your area) or 0845 46 47. In Northern Ireland call 111.
Testing will only focus on identifying people with the virus in hospital.

4. Travellers advised to check latest government advice
Many of the UK's first cases were people who had recently travelled from affected countries - including Italy and France as well as China and Iran.
Anyone returning from abroad must follow the same latest public guidance - if you are showing symptoms, you should self-isolate.
The government is advising against all but essential travel to countries with high numbers of coronavirus cases - such as Italy, Iran, and China.
Parts of Spain, which has seen a rapid increase in cases, are also on the list - the Foreign Office advises against all but essential travel to Madrid and La Rioja, and the municipalities of La Bastida and Vitoria (both in the Basque Country) and Miranda de Ebro (in Castilla y León).
UK citizens in Spain are not being told to leave. Transport routes out of the country remain open.
Anyone travelling abroad is asked to check the latest Foreign Office advice.
source: https://www.bbc.co.uk/news/uk-51768274