Tai chi may help slow down the symptoms of Parkinson's disease for several years, a Chinese study suggests.
Those who practised the martial art twice a week had fewer complications and better quality of life than those who didn't, the researchers say.
Parkinson's is a progressive brain disease which leads to tremors and slow movement, and there is no cure.
Experts say the findings back up previous studies on the benefits of exercise for those with Parkinson's.
The study, from Shanghai Jiao Tong University School of Medicine, monitored the health of hundreds of Parkinson's patients for up to five years.
One group of 147 people practised regular tai chi while another group of 187 did not.
The traditional Chinese exercise combines slow, gentle movements with deep breathing and relaxation.
The charity Parkinson's UK describes tai chi as a low-intensity physical activity that can "help to lift your mood and help you live well".
The researchers found that the disease progressed more slowly in the tai chi group on measurements of symptoms, movement and balance.
This group also saw fewer falls, less back pain and dizziness, with memory and concentration problems also lower than in the other group.
At the same time, sleep and quality of life continuously improved.
Tai chi moves for beginners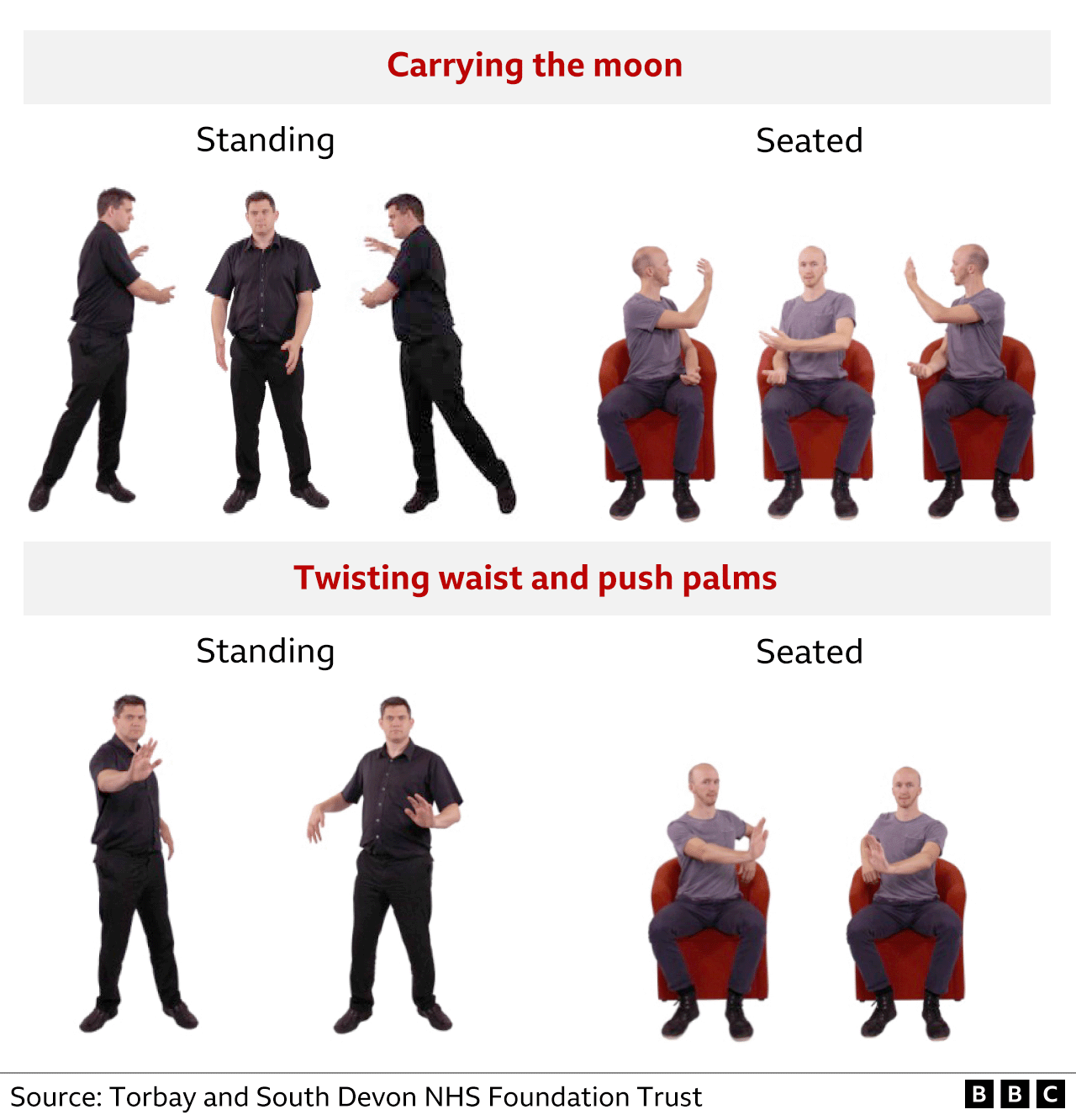 Do it yourself - Carrying the moon:
Breathe in, turn your body towards the left from the waist
Your shoulders are relaxed and your elbows slightly bent
Now reach both arms towards the left with your head focusing on your hands
Breathe out, bring hands down. Turn to right and repeat
Do it yourself - Twisting waist and push palms:
Breathe in, draw palms to the waist facing upwards
Breathe out, turn your body to the left at the waist. Keep the left elbow and wrist slightly bent and draw the elbow back
At the same time, extend the right arm forward and push with the right palm facing forward (as if you are trying to stop traffic)
Breathe in, return to the middle and spread your weight evenly before turning to the right, drawing your right arm back and extending your left arm with your palm facing forward.


A previous trial of people with Parkinson's who practised tai chi for six months found greater improvements in walking, posture and balance than those not on the programme.
Writing in the Journal of Neurology Neurosurgery & Psychiatry, Dr Gen Li and co-authors say their study shows "that tai chi retains the long-term beneficial effect on Parkinson's disease".
They say tai chi could be used to manage Parkinson's on a long-term basis and prolong quality of life, while still helping to keep patients active.
But they also acknowledge that the study is relatively small and could not prove that tai chi was the reason for the positive outcomes experienced by one group.
'Positive effects'
Prof K Ray Chaudhuri, professor of movement disorders and neurology at King's College London, said: "It is too early to claim any neuroprotection based on this study, although the positive effects on aspects of motor and non-motor functions are impressive."
He said ballet had also been found to have similar effects on Parkinson's.
Prof Alastair Noyce, professor in neurology and neuroepidemiology at Queen Mary University of London, called it "an important study" but said there were limitations in its design, and more trials were needed.
"We already recommend tai chi, as well as other forms of exercise, but understanding which forms of exercise are most beneficial is an important goal to enhance the long-term management of patients," he said.
 source: https://www.bbc.co.uk/news/health-67208745
HUNTINGTON'S  |  END OF LIFE  |  AUTISM  |  DEMENTIA  |  MENTAL HEALTH  |  DAY CARE  |  NIGHT SHIFT  |  COMPANIONSHIP  |  HOME CALLS  |  24/7 CARE  |  DISABILITIES  |  BEHAVIOURAL  |  PALLIATIVE CARE  |  DOMESTIC SERVICES  |  SITS  |  MULTIPLE SCLEROSIS - MS  |  LIVE IN CARE